Multi-Diag Diagnostic tools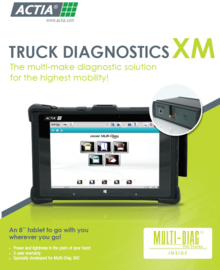 A well-known name in electronic diagnostics for bus manufacturers and independent workshops, ACTIA also develops on-board systems for commercial and industrial vehicles.
Diagnostic of all leading makes of HGVs (truck electronic equipment and trailers), buses, coaches and utility vehicles: Mercedes, Iveco, Renault Trucks, Scania, Volvo, Man, Nissan, DAF, Volkswagen, Askam, Avia, BMC, Ford, Freightliner, International, Kenworth, Mack, Peterbilt, Bova VDL, Setra, ERF, Knorr-Bremse, Wabco, Haldex, etc.
Key maintenance and repair functions: resetting, fault code reading/clearing, parameter reading, actuator testing, ECU configuration, calibration, etc.
Diagnostic of main vehicle systems: injection, ABS, EBS, EDC, suspension, retarder, gearbox, brakes, central ECU, dashboard, comfort systems, tyre valves, immobiliser, airbag system, electronic tachograph, air-conditioning, steering, etc.
Mobile and rugged: Bluetooth communication mode, diagnostic station adapted to the work environment for workshop or roadside maintenance.
Quick and simple to use: step-by-step diagnostic methods and procedures, user-friendly interface and intuitive browsing.
Interactive technical documentation: technical vehicle data, wiring diagrams and other technical information are accessible at different stages of the diagnostic procedure.
There are three options, depending on your needs and budget:
First - this affordable option allows a customer to use their own PC to access all the benefits of Multi-Diag Trucks software and Vehicle Communication Interface (VCI).
Mobile 3 - this light and compact tool features a strap so it can hook to your arm or any steering wheel. It is designed for use in the workshop with rugged, silicone reinforcements protecting it from damage. You have all the benefits of a tablet with complete access to Multi-Diag Trucks.
XG Master - this larger, touch screen PC is IP54 certified and can withstand shocks, splashes and dust for use in all environments. The Intel Cor I7 processor allows customers to make the most of Multi-Diag Trucks within a Windows environment.