Fatigue and distraction detection technology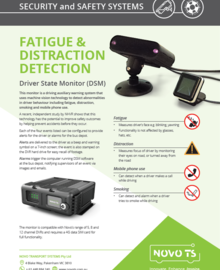 Click this link to recent media release about effectiveness of fatigue management.
This monitor is a driving auxiliary warning system that uses machine vision technology to detect driver abnormality driving status. It can help detect and alarm unsafe driver behavious, such as fatigue, distraction, smoking and mobile phone use. A recent, independent study by NHVR shows that fatigue and distraction detection technology has the potential to improve safety outcomes by helping precent accidents before they occur.
Fatigue - measures driver's face e.g. blinking, yawning (functionality is not affected by glasses, hats etc)
Distraction - measures focus of driver by monitoring their eyes on road, or turned away from the road
Mobile phone use - can detect and alarm driver's making a phone call when driving
Smoking - can detect and alarm when a driver tries to smoke while driving
The monitor incorporates a 7-inch screen to alert driver of any of these events, producing a beep and representative symbol for each event.
Each of the four events listed above can be configured to provide alerts or alarms for the bus depo.
Alerts – stamp the DVR hard drive in different colour for easy recall of footage
Alarms – trigger the computer running DSM software back at depot – can provide image to that computer and generate an email to notify supervisor of event
Note: Alarms are a good idea for mobile phone and smoking events while alerts are suggested for fatigue and driver intervention.
The equipment required for this functionality is a compatible DVR and DSM kit. The best value option is our 4-camera fatigue management kit which has sufficient inputs for the DSM and 4 analog cameras. However, there are other options should more cameras be required.
Additionally, this system is reliant on 4G SIM card which Novo provides for $30 software access fee per month bus.